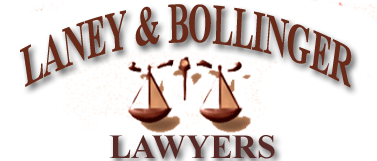 Our Practice

Our practice includes protecting the rights of individuals -- those who have been injured or wronged by others. We do not represent large corporations or insurance companies -- we represent the "underdog" against large corporations and insurance companies.

We make justice affordable by working on a "contingency fee" basis on most of our cases. In those cases, our fee is a percentage of the recovery we obtain for our clients. Simply put, for contingency fee cases: "No Recovery -- No Fee." We have a vested interest in each client's case. Whether the case is handled on a contingency fee or otherwise, there is no charge for the initial consultation. (up to half hour)

We also make justice affordable by advancing court costs and other expenses for case preparation. Our expenses are reimbursed from the client's share of the recovery we obtain. We are committed to each client's case.

Our firm has broad experience in Personal Injury and Civil Trial Law, as experienced lawyers and experienced litigators. We are an aggressive firm which fully prosecutes each case, through trial, when necessary. Many of our cases are successfully settled without the need for trial. However, we are, by no means, strangers to the court house. The details and facts of each individual case dictate whether it is settled or must be litigated in a court of law.

The law consists of many complex areas of practice. We are not general practitioners, because we do not believe that our clients' best interests would be served by being a "jack of all trades" -- and a "master of none."

Our contingency fee practice is limited to certain areas. Most of those areas are negligence related cases, which usually involve personal injury or wrongful death. The following are the types of cases we handle:

Negligence:


Cases Wrongful Death or Serious Personal Injury


Auto, Truck & Train Accidents


Malpractice:



Medical (Doctor & Hospital)



Legal



Accountant



Other Professional


Nursing Home Neglect


Defective Products & Machinery


Premises Liability


Third Party Liability for On-the-Job Injuries

Non-Negligence:


Insurance Disputes and Denied Claims


Misrepresentation


Wronged Consumer & Other Deceptive Trade Practices


Other Civil Litigation Involving Significant Damages, including:



Tortious Interference with Contracts



Breach of Contract



Probate of Wills



Will Contests



Criminal Law:

Drug Cases * DWI


Felonies * Misdemeanors


Criminal Appeals & Writs


Will Contests



Family Law:

Divorce * Adoptions


Custody * Support


While these are most of the areas of our practice, we do not accept every case which falls within any area of our practice, and expressly do not accept cases in the following areas of law: Workers Compensation, Social Security, Environmental, Bankruptcy, Oil & Gas, Immigration, Appellate Law, Administrative Law and Tax Law.

If you have been the victim of a serious personal injury or medical malpractice, or you have been wronged in any manner, simply complete our brief Case Review Form, or telephone us at 806-293-2618 or Toll Free at 800-210-2198, for a free, no-obligation case review.
---
Copyright © 1998-2013. All Rights Reserved.
Maintained by WBI Websites®