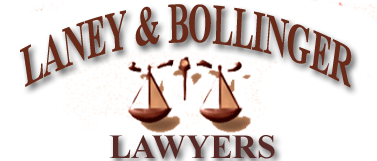 Free Case Review

Please enter your information below and click the "Submit Your Case" button, for a free, no-obligation case review. You may also contact us by telephone, if you prefer, at 806-293-2618 or Toll Free at 800-210-2198.
The required information, indicated by the * below, is needed in order for us to do a conflict of interest check before we respond and to enable us to respond to you.
You may also contact us by email.
Your information is treated as confidential and will not be shared with any third party or used for any purpose other than the free case review.
Contacting Laney & Bollinger Firm via this website, in person, or by phone does not constitute an obligation for this law firm to investigate or prosecute a claim. Such obligation only arises when a written attorney retainer agreement has been signed by both you and the firm. The information you obtain at this site is not, nor is it intended to be, legal advice. You should consult an attorney for individual advice regarding your own situation.
* Required Field
If you do not receive a reply within 72 hours, it may be because your question was outside of the scope of our practice and we were unable to suggest a lawyer or law firm who could possibly assist you. It may also be due to the fact that due to the changes in the law under the guise of "tort reform" have made cases like yours not economically feasible to be pursued. Please feel free to contact us by phone.
Our reply, if any, will be from a licensed lawyer, but it will not constitute legal advice nor will it form an attorney-client relationship. Likewise, notwithstanding any additional communication between us, an attorney-client relationship will only be formed after a written agreement is entered into by you and our firm.
Please be aware that the information you send by email, and the response you have solicited from us, may not be secure and may not remain privileged and confidential as would a communication with a lawyer by telephone, mail, fax or in person.
If you need immediate legal advice, immediate legal representation, or you are subject to any time deadlines whatsoever, PLEASE CONTACT US BY TELEPHONE. DO NOT WAIT FOR OUR REPLY, IF ANY.**
---
Copyright © 1998-2013. All Rights Reserved.
Maintained by WBI Websites®